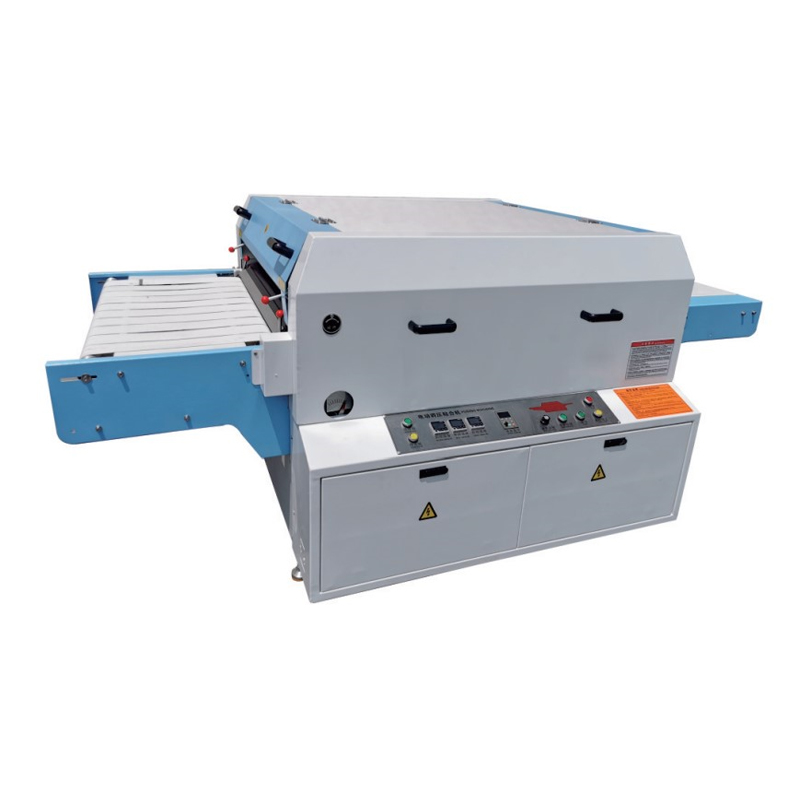 Fly Woven Vamp Calander and Gluing Machine
Product usage
Flying-woven vamp, woven vamp, jacquard, leather composite, seamless underwear, clothing adhesive lining, etc
Product feature
1. multi-stage independent control heating
1) The width of the calender can be adjusted according to the width of the vamp for cutting vamp or semi-forming vamp. For example, NHG-120C can use three heating modes of 40 cm, 80 cm and 120 cm. lt can be used alone or in combination. Unused parts are not heated to reduce power consumption.
2) The night sample heating alone for a period of time. Large models can be used as small models. It saves energy and power and feels the same as the larger size. This completely solves the problem that the sample is not consistent with the bulk cargo. It consumes only 30 percent of the power of the whole machine.
3) Any section temperature can be used only or alternatively. It solves the oblique plate caused by the temperature difference between left and right and inconsistent hand feel was solved.
2. The pressure roller is adjusted synchronously with the rubber parent. This meets the air layer double vamp and drum wave three-dimensional strong vamp arbitrary adjustment. Electric voltage regulating operation is adopted.
3. Mica sheet heating is adopted and has high thermal conductivity efficiency. It has low loss, temperature difference and longer service life
4. Seamless high temperature annular walking belt is used. Damage to the belt caused by material and hot fuse running inside the belt is avoided. The service life of the belt is increased by 2-3 times.
5. Electrical components of international brands are used.More safe and energy efficient use is guaranteed.
Technical Parameters
| | | | | | |
| --- | --- | --- | --- | --- | --- |
| Model Number | NHG-600 | NHG-900 | NHG-1200 | NHG-1600 | NHG-1800 |
| Width of adhesive tape (mm) | 600 | 900 | 1200 | 1600 | 1800 |
| Bonding speed (m/min) | 0~12 | 0~12 | 0~12 | 0~12 | 0~12 |
| Operating voltage (V) | 380v | 380v | 380v | 380v | 380v |
| Rated power (kW) | 12 | 18 | 23 | 27 | 32 |
| Rated frequency (Hz) | 50 | 50 | 50 | 50 | 50 |
| Bonding pressure (MPa) | 0-0.4 | 0-0.4 | 0-0.4 | 0-0.4 | 0-0.4 |
| Heater Operating Temperature (P) | Indoor Temperature - 250 | Indoor Temperature – 250 | Indoor Temperature – 250 | Indoor Temperature - 250 | Indoor Temperature - 250 |
| Net weight/gross weight (kg) | 380/490 | 570/700 | 760/910 | 950/1100 | 1120/1300 |
| Transportation dimension (mm) | 1550 x 1300 x 1750 | 1690 x 1500 x 1750 | 1990 x 1550 x 1750 | 2290 x 1550 x 1750 | 2490 x 1550 x 1750 |